Pacific Business Sales boasts over 20 years of expertise in selling companies in the technology, aerospace, and government contracting industries. We can help you sell your aerospace business for maximum value. Our President, Bill Grunau, has extensive firsthand knowledge of the sector, having worked as a top executive in the military electronics-aerospace industry for 20 years prior to launching Pacific Business Sales. As such, our team is comprised has in-depth knowledge of aerospace-government businesses.
Besides assisting you in acquiring maximum value for your manufacturing firm, our aerospace business brokers in Orange County work collaboratively with Financial Advisors and tax strategy CPAs to develop customized plans for delaying or minimizing tax liabilities allowing you, the seller, to retain more cash after closing..
Maintaining the firm's culture and ensuring the continued employment of existing staff are common top priorities for many business owners. Our aerospace business broker firm in Orange County can assist you, the seller, in finding the most suitable buyer for your company, and assure its continued success and cultural continuity. As a premier aerospace and defense business broker, our mission is to help aerospace manufacturers in Orange County and throughout California find a buyer who will carry on the firm's legacy and adhere to the same high standards and goals the founders set.
As a trusted aerospace business broker in Orange County with expertise in securing SBA financing and our network of SBA Lenders, we can assist you in achieving more cash at closing. We have extensive knowledge of the aerospace manufacturing corporate market, manufacturing enterprise valuations, and manufacturing processes, thanks to our extensive background in the aerospace sector in Orange County and throughout California. Pacific Business Brokers can sell your business no matter the industry in which it operates.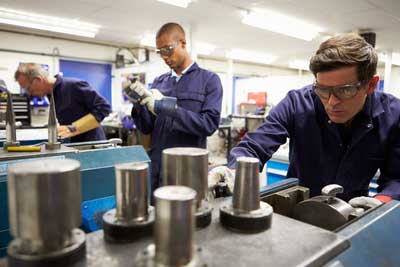 What to Expect When Working with a Skilled Orange County Business Broker to Sell Your Aerospace Company
To maintain prestige as the best aerospace business broker in Orange County, Pacific Business Sales observes rigid protocols to continually offer superior brokerage services. As the leading business brokers in Orange County, we ensure to help you sell your aerospace business for optimum value. Our focus is to market your business and find a well qualified buyer. We will facilitate with everything from conducting due diligence to securing financing, closing the sale of your Orange County company, and transition planning.
As aerospace company Business Brokers, protecting the privacy and confidentiality of our sellers is our top priority. Our ads are generic, excluding the most specific details, such as the company name or location.
To maintain confidentiality, potential buyers are only given access to sensitive information about your business after signing an NDA and having completed the Buyer's Profile, which details their finances, credit score, and expertise.
---
To ensure optimal results, we send email blasts to two databases, ours with over 3,500 potential buyers and BizBuySell's to generate the maximum number of quality inquiries for your aerospace business.
---
During this stage, our top-rated aerospace and defense business brokers craft customized Confidential Information Memorandum (CIM), which will only be presented to potential buyers after signing an NDA. Hiring an experienced aerospace business broker in Orange County is crucial in creating a CIM that attracts the right buyers. As the best aerospace business broker in Orange County, our team will craft a CIM that will best represent your company, which serves as a prospectus and promotional pamphlet for your firm.
---
Both our Asset Purchase Agreements and Stock Purchase Agreements are based on forms developed by the California Association of Business Brokers (CABB). It's important to note that an Asset Sale is a transaction type, not a liquidation of assets. For more information on the distinction between both, visit our Stock vs. Asset Sale page. As a superior aerospace and defense business broker company, we have proven experience with both types, ensuring we can sell your aerospace business according to your needs.
Through experience as an aerospace business broker in Orange County, we have found that a Stock Sale can benefit you. Sometimes, it is even compulsory if your firm has government contracts. By purchasing the corporation's shares, the purchaser keeps the corporation's EIN and all of the entity's binding contracts.
After extensive consultation with the purchaser, we finalize the proposal and send it to them for electronic signature via PandaDocs. We'll review the offer with you after the purchaser signs it, clarify what it says, and help you draft a counteroffer if required.
---
More than 90% of Pacific Business Sales deals involve Small Business Administration financing, for aerospace companies of varying sizes and types. On the funding of SBA deals for aerospace firms, we exclusively partner with banks that are members of the SBA's PLP (Preferred Lender Program). Well established relationships with our network of banks means we are conversant with the banks' underwriting guidelines and can close the transaction for your aerospace business.
What does this mean for you as a businessperson? Put another way: more CASH at closing! When using SBA funding, a Seller Note may not be necessary. As a reputable aerospace and defense business broker, we have secured funding for up to 90% of the purchase price through the Small Business Administration, with the buyer just required to put down 10%.
Your Accounts Receivable will be purchased with SBA funding (accounts receivable). So, your final payment will be cold, hard cash. There are some instances that the bank will want the seller to carry a 10% note, you would get 80% in cash at closure and 10% in the form of a Seller Note.
---
Validating the buyer's ability to run the firm and close the deal successfully is crucial when selling an aerospace company.
Being a trusted aerospace business broker in Orange County, we receive countless queries from potential buyers looking to acquire aerospace companies because of the industry's popularity and high demand.
Orange County-based Pacific Business Sales is an aerospace business broker with a focus on the sale of aerospace companies just like yours. As an aerospace and defense business broker, we conduct in-depth checks on the purchaser's financial stability and management skills. Although inexperienced buyers may make an offer, we have found that they are rarely successful. We seek out purchasers who can take over the aerospace company, are serious about closing, and have the experience to steer your company in a promising direction, all while protecting your company's name and keeping your staff employed.
As a premier aerospace and defense business broker, we have successfully sold hundreds of businesses in Orange County, Los Angeles County, San Diego County and throughout California,. We pride ourselves on consistency and commitment to the successful sell or your business with every business we represent. Let us demonstrate why we are the most qualified business broker located in Orange County to assist you to sell your aerospace business. Contact us and see the tremendous results we produce.
---
Having your ad seen by countless individuals is excellent, but it will only contribute to your success if they take action and inquire about your business. Manufacturing companies can benefit from our attention-grabbing headlines and our engaging and informative ad language, encouraging potential customers to learn more about your company and helping us sell your aerospace business.
As an outstanding aerospace business broker in Orange County, our aerospace and defense business broker team ensures our advertisements always show up first, rather than last, on websites that specialize in selling businesses.
---
As an established aerospace business broker in Orange County, we conduct the initial interview with prospective buyers, serving as a preliminary screening to determine whether or not they have the experience and capabilities to operate your firm and, candidly, how committed and serious they are in making a purchase. The next step is for the buyer, seller, and our aerospace and defense business broker to get together to go over the finer points of the transaction.
Although we cover the basic grounds in our first meeting, buyers will often bring up previously covered topics to discuss further details. Most of our first meetings with potential buyers are conducted via Zoom, and subsequent meetings are in person. Our next step after these discussions will be to make an offer to sell your aerospace business.
---
Your products/services synopsis
SBA Lender pre-approval letter
Your company history
Recast company financial statements and information
SBA financing structure
Equipment list
Staff roster redacted names
---
When selling an aerospace company, due diligence is a crucial step. During due diligence, the buyer and their CPA will investigate the company's financial documents, such as tax returns, profit and loss accounts, bank accounts, and more, to establish that the reported earnings and sales are accurate.
The buyer will comprehensively analyze the firm to ensure it is well-run and solvent. As an aerospace business broker in Orange County, we facilitate due diligence in helping both the buyer and the seller stay on track and informed. Once due diligence has concluded and the due diligence contingency is eliminated, escrow can be opened.
As an aerospace and defense business broker, we are familiar with aerospace industry inventory, work in process, accounts receivable practices and procedures, and the specific financial statements used by aerospace enterprises when we sell your aerospace business. Our expertise lies primarily in valuing the worth of your aerospace company at the maximum value..
Suppose you're looking to sell or buy an aerospace firm. In that case, your business broker must have industry experience, communicate effectively with you, and know how to negotiate deals and arrange SBA loans.
Bill Grunau, head of Pacific Business Sales, has spent over two decades in the industry marketing aerospace companies. His team closes over 90% of their deals with the help of Small Business Administration financing, giving his clients more money in hand.
---
We'll analyze your company's worth in the market for free and give you a brokers opinion of value, employing the same techniques and sophisticated tools that SBA-approved business appraisers employ.
From the SBA's database of concluded transactions, we've compiled a unique set of comparable sales figures for the purchase and sale of manufacturing companies of all shapes and sizes. You can rest assured that the value we suggest using our Market Value Analysis will be accepted by the SBA for financing purposes when you sell your aerospace business.
---