Own Your Future
Straight Talk about Buying a Business and Building Your Future
William Grunau, a Business Broker with over 20 years experience, entrepreneur, and former corporate executive with decades of experience, explains how you, too, can become your own boss.
In this comprehensive guide on owning your own future, you'll learn:
How to finance an acquisition with Small Business Administration financing;
How to use your 401K or IRA funds to buy an Orange County business without penalties or taxes;
How to write offers;
How to conduct due diligence;
How to develop a 100-day and first-year plan;
How to develop an exit strategy;
And much more!
Unveil the mystery and secrets behind deals how deals are really done that only the insiders know. With this book, the process is demystified with step-by-step practical examples, tools, and tips that are easy to follow and apply.
Whether you are ready to search for the right business in Orange County or somewhere else, obtain financing, or determine the value of what you want to buy, Grunau carefully guides you every step of the way. It's time to stop sitting on your hands; it's time to Own Your Future.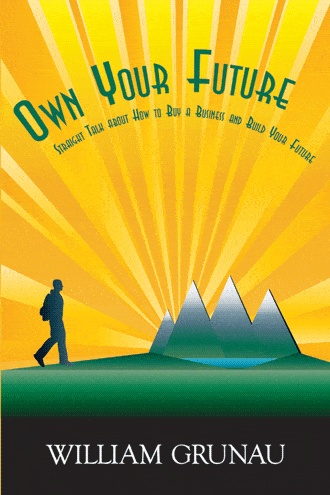 Order Now
Order Own Your Future: Straight Talk about How to Buy a Business and Build Your Future from Amazon or iUniverse.com.
Rarely do you come across a book that provides hands on practical advice in every chapter. Bill's real life experiences as an entrepreneur, CEO, and business broker leave the reader with a blueprint for business acquisitions. Ivory tower theory is not going to go a long way in an acquisition, one needs to get down in the trenches as Bill explains chapter by chapter.

KF

Karl Fava Principal, Business Financial Consultants
Bill's polished style of writing reflects a common sense approach to buyer and seller concerns through the acquisition and divestiture process. A must read for first-time buyers and sellers of privately held businesses.

GH

Glenn Haddad Corporate Trainer and Business Intermediary
I couldn't recommend a more salient primer for persons interested in purchasing a business. Bill Grunau distills the complexities of the purchase and sale of businesses into a plain English and common sense-format that will allow inexperienced buyers or sellers to confidently spot and navigate potential minefields in the transaction. Undoubtedly, the book can allow its reader to make better decisions—ones that will lead to successful results, profitability and peace of mind!

TL

Thomas Lombardi Founding Partner, Palmer, Lombardi, Donohue Law Firm